Information about Come enjoy a relaxing holiday in "green Spain"
Ongi etorri / Welcome
Pristine countryside, delicious Basque cuisine will make this a holiday to remember!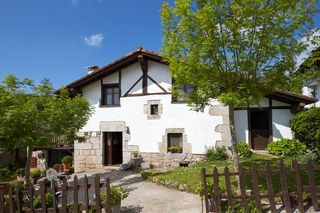 Casa Labetxea is a very special country cottage in the green and temperate north of Spain. Dating back to the 16th century, it was originally the village bakery in the charming village of Baraibar in the ancient Kingdom of Navarre. Now rustically renovated as a rural house accommodating up to six guests, it is surrounded by the green fields and streams of the Larraun Valley and set against the spectacular backdrop of the Aralar Mountains. The forests are lush and include especially impressive beech groves, interspersed with ancient dolmens waiting to be found walking, hiking, or just taking a relaxing stroll and exploring. And despite our completely relaxed rural setting, we are located only 45 minutes away by car from the excitement of both the cities of Donostia-San Sebastián and 30 minutes away from Pamplona.
Casa Labetxea is fantastic for families with children and for anyone who wants to be around and get to know our faithful shepherd dog "Argi". Just come with your children and have fun.
We invite you to get to know Casa Labetxea and our facilities, take a look at photos of the house and explore the delights of our surroundings: nature and the local places of interest and the excellent cuisine that has made the Basque Country world famous.
If you'd like to get straight down to business, you can check:
We hope you enjoy our website.
Warm greetings from your hostess and host at Casa Labetxea,
María and Joaquín